Sit Spots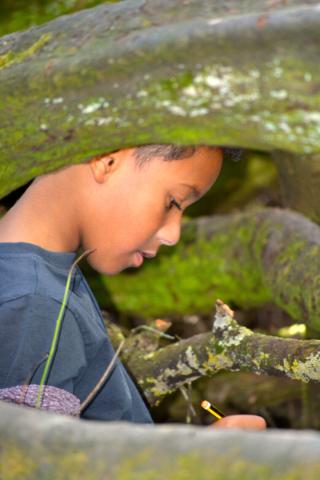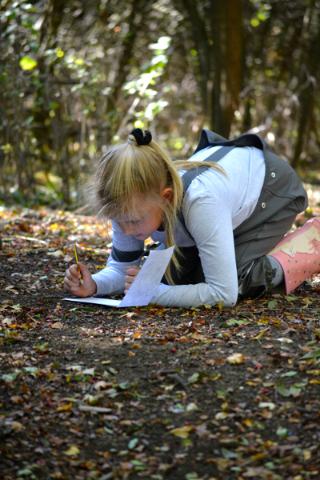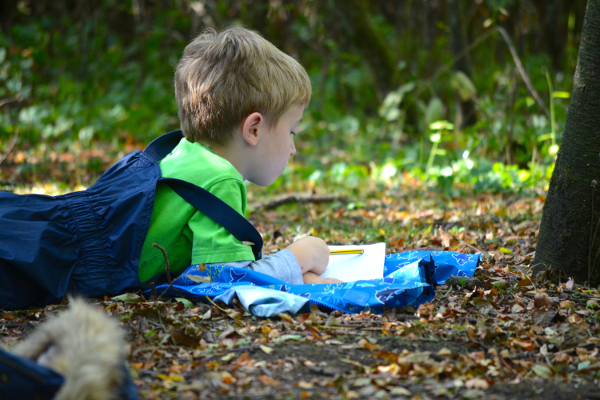 Modern life moves so fast and we rarely spend time sitting all alone just listening or watching to what is going on around us. Finding their own small space for themselves in the wood where they will just sit for a short time allows children to slow down and watch and listen to a little bit of the natural world of the wood going by'.
My experience has taught me the benefits to the children over time are many fold. I am always struck by the calming, focussing effect it has on the class of excited and slightly over boisterous children who have nosily arrived for forest school. Indeed perhaps everybody's' well-being, adults and children alike, is helped by a few quiet moments.
Learning to pay attention to what's happening in the present moment in the natural environment, helps lay a foundation for children to develop the capacity to observe their own thoughts, feelings and internal experiences from a non judgemental position. These mindfulness skills can be helpful in fostering emotional resilience and well being.
Over time children learn to observe changes and begin to make connections about the natural world, it is so much more fun for children to learn these connections at first hand, as they observe things in their spot changing from week to week.
Setting up sit spots with the children isn't tricky but has to be done it stages. It takes time to tune in to the woodland world and can even be a little scary going off to find your own space. Children need help to find a spot for themselves which is just for them, not too close to their peers to cause distractions but not so far as to make them too isolated.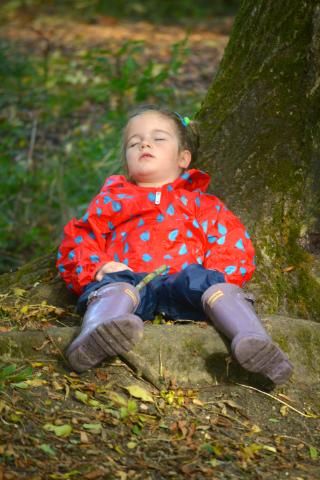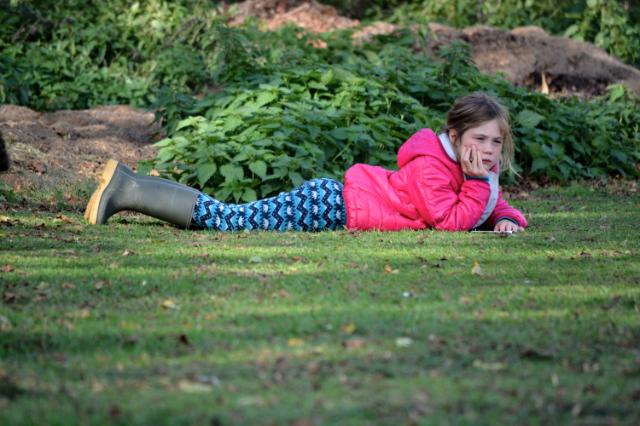 Children need help to hone their looking, listening and touching skills. For the first couple of times of sitting I may keep the children together and we will practise just listening, we can listen out for certain sounds, then simply looking, up, down, close far away. Sometimes closing their eyes for the listening part helps.
Once the children are off to their own spot it may be appropriate to give a focus for the sit spot session for example how many different bird calls can you hear? Can you identify ones that are warning sounds, ones that a mating calls or just the birds simply telling each other where they are?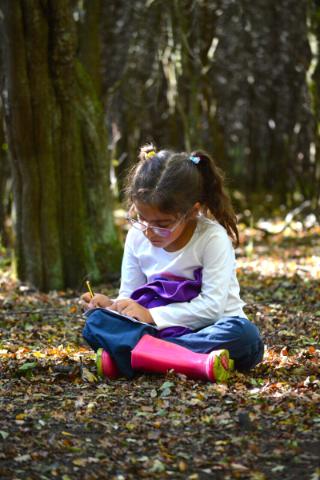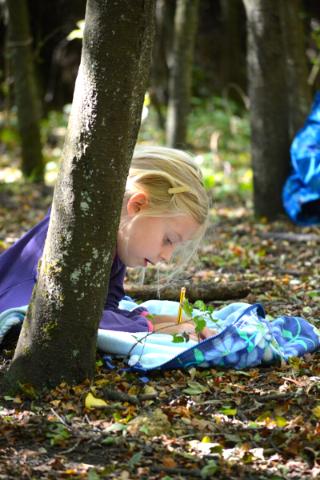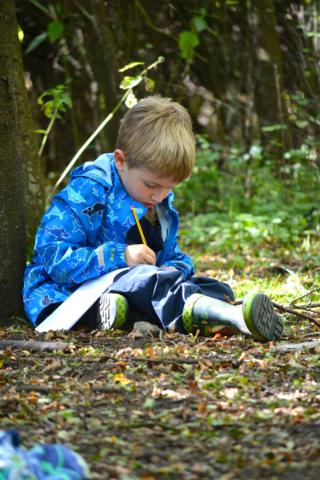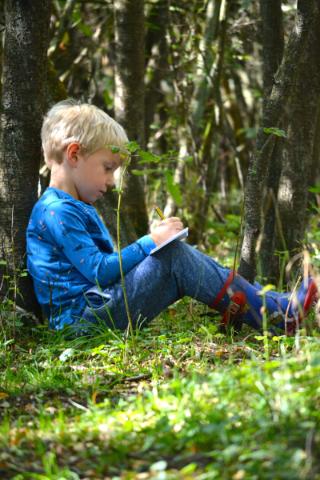 Just' chilling' in a sit spot is, in my opinion, is a valuable skill to learn, but sit spots can be used to support the curriculum in many ways. Often forest school sessions become more focused for older children who are experienced forest schoolers. Keeping a log of what is happening from week to week can be fun. A small pad for each child and a pot of pencils are all that is needed – I usually leave the children to choose whether they write or draw or do nothing at all. Wind blowing through a wood can allow children to imagine they are somewhere else. For example a Year one class doing a topic on pirates at sea to were able to interpret the wood as a raging sea, it is amazing what they can hear going on in the oceans of their imaginations! The calming peaceful experience of their sit spot allowed a members of a Year 5/6 class to consider how terrifying being on the deck of the Titanic would have been in comparison. Habitat work allows children to sit and listen and look at the creatures the wood is home to.
Many children and, it has to be said the adults accompanying them, find sitting alone very tricky to begin with. However, they manage to sit for longer and longer periods – up to about fifteen minutes and the rewards are often manifold. The thrill the reception class got when a deer wandered through, they had been so quiet the deer had entered up wind and not smelt or spotted the children. The wide eyed look of the four year old sitting in her spot after the rain and a worm emerged beside her welly. Very often groups will not want to stop and even want to finish the session with another go in their sit spot.